Saturday, February 12, 2011
AWP Haul Mini-Reviews: Round One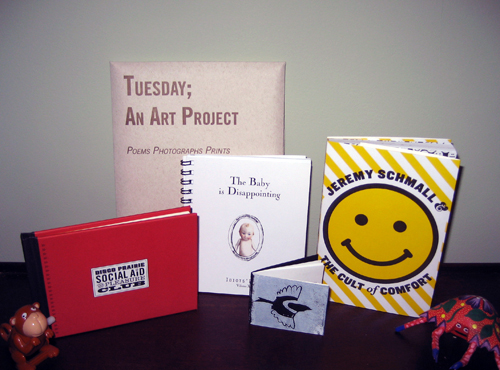 Magpie's Box
, by Kate Schapira (eensy handmade chapbook, with handprinted image of a magpie on the cover) – Magpies have all the advantages of birds – flight, grace, freedom – and a weirdly human compulsion to collect shiny heaps of junk. In these twelve short poems, this identification of the avian and the human veers between the mythical, ("When you heard your daughter could turn into a bird . . .") to the lyrical ("a found triumph to rebarb and flaunt") to the mundane, ("I turned out to like trash and creeps.") There's a lot going on here – mother/daughter relations, the human predilection for ruining the environment, an interrogation of words and books themselves – handled as quickly and startlingly as birdflight. I'm not exactly sure where I've wound up, but I feel the journey's taken place.
Disco Prairie Social Aid and Pleasure Club
(Factory Hollow Press) – This adroitly designed book collects and presents lines from 144 contemporary poets. Their only context is each other, and the tone, diction, and themes range so greatly that it's a bit like a poetic version of a David Markson novel. There's a key at the back to identify the authors, and I felt very very smart whenever I read a line and thought, "why that sounds just like so-and-so," only to find that it was in fact so-and-so. Taking the line out of the poem doesn't take the poetry out of the line: in fact, it refocuses you and by-the-by, piques the interest enough to maybe find out more about the authors of some of these striking phrases. I've never read anything by Pam Rehm, for example, but the line "To ward something off/draw it" comes across as just right. As good a way as any, this, to kick-start the search for something new.
The Baby is Disappointing
, by Matthew Swanson and Robbi Behr (Idiots' Books). A wee, illustrated complaint regarding the baby's failure to scintillate in the manner its parents expected, pre-baby. Less mannered or Victorian than Edward Gorey, but not entirely dissimilar in tone; in fact, some of the language evokes a peculiar kind of horror, as though the baby were a creature of Edgar Allen Poe's devising, sent from beyond to taunt and torment its benighted parents. It all winds up well – OR DOES IT? I wanted to purchase copies for friends of mine who have recently had babies, or who will have them soon, but thought they might be taken amiss even though there would be no intention of hinting that those particular babies were disappointing; rather, they all are. As I wondered of my infant sister, "She can't play? Why can't she play? WHYYYYYY?" But she didn't stay a baby, and can play just fine now. So, buck up, parents!
Jeremy Schmall & the Cult of Comfort
, by Jeremy Schmall (X-ING Books). A book meant to attract and repel in equal measure. Not-quite non-sequiturs tumble over and against each other, creating an angry, defiant, and sometimes defeated space in which economics runs roughshod over people too engrossed in checking various screens to entirely notice or care. New York School techniques re-purposed not in the service of gentle absurdism or mandarin abstraction, but a pissed-off
cri de coeur
against how violent, inorganic and above all, commercialized, our commerce with each other has become. I wouldn't say this is a
pleasant
book to read: despite the giant yellow smiley face that adorns its cover, it's not here to make you happy. It's here to let you know that there's a "price on your tongue," if not everything, and that "the guidance system is destroyed/but the missiles are howling."
Tuesday; An Art Project
. Volume 4:2. A magazine to touch a book-arts' lover's heart. Poems, prints, and photographs on loose 5x7 cards, bound into a folded, oversized, letterpressed cover that contains the table of contents, contributors' notes, etc. The poems tend slightly to the surreal but not overly avant-garde – Charles Simic is here, if that helps you get your bearings. My favorite piece in this issue was a prose poem by Lisa Nold, called
The Fly Fear
. It takes one mildly off-kilter premise and keeps it going until you come out the other side with something fundamentally disquieting.