Sunday, August 16, 2009
Don't Mess With Our Trash; The Haunted Floor
Yesterday Jeff went out to buy a new trash can for the back alley. In an effort to keep unscrupulous neighbors from putting their trash in our can, he has decorated it with blinding white duct tape, as follows: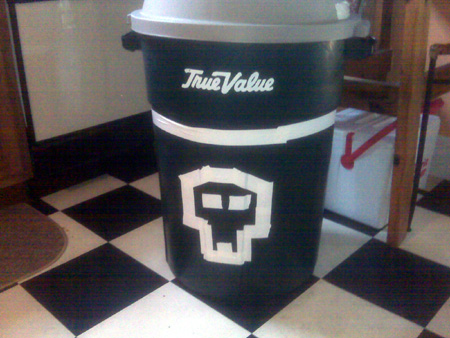 Of course, it may also keep the garbage collectors from approaching and emptying the can, as it appears as though it might be filled with poison.
In the photo, you can see our kitchen floor. Not a week ago, prior to a visit by my parents, I got down on my hands and knees and scrubbed that floor with bleach. A week later, it is so dingy that just walking on it makes us cringe. We have not been able to discover any method of breaking this habit of our floor to act as a gravity well for dirt of all varieties. I have come to believe that it is actually haunted. I believe our floor committed a grave sin in a past life, and its tendency toward filth is the psychic manifestation of its crime.
I woke up this morning feeling rather awful, and as a result, have been no good for anything but sitting around quietly and reading. I've made some headway on selecting a new computer for Big Game, and will probably have both that and new book-editing software in hand by the end of the month. Huzzah for progress! And now, I will take my leave and return to my reading and tuneless, head-achy moaning.